Public Speaker on e-democracy, e-participation, open government, and civic technology …
"You were so colorful, credible, interesting . . ."
I tell the story of the future of democracy, community and governance in the information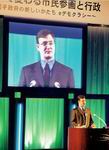 age.  I bring e-democracy to life through real examples and insights. These are based on my direct experience with E-Democracy.org and lessons gathered in-person and online around the world.
Through hundreds of speeches across 35+ countries, in the face of the virtual civil war we are facing, I share my uniquely optimistic yet pragmatic vision of the opportunities and challenges ahead.
Download and read some of my examples speeches and slides below. I am available as a speaker, panel moderator/participant or training leader on democracy online. This includes open government, civic technology, e-democracy, e-government, online consultation, online communities and citizen participation, politics online and related topics.
I work with my hosts to tailor my speech/training to the needs of their conference or organization. With my base of experience, from Prime Ministers to citizen groups, I can speak at a moments notice and connect at the appropriate level with any audience. For honorarium and travel expense details please contact me.
Example Keynotes
Consultation Institute's Annual Conference in London
Personal Democracy Forum Speech – 17 Minute Keynote – My speech made the New York Times. (Video is now offline.)
Example In-Depth Seminars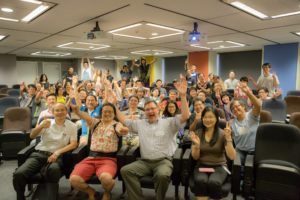 Example Panelist
More Speeches and Presentations
Public Net-Work – PowerPoint – A new and exciting topic that applies e-democracy lessons to the improved implementation of public policy. Available in keynote and workshop versions.
Online Consultation Seminar – PowerPoint – An updated version of this presentation for potential hosts is available upon request.  This interactive one to two hour seminar shares detailed examples, practical tips and advice for organizing online consultations and events. This seminar complements my top ten tips online consultation article.
Eye on the E-Citizen – PowerPoint – What do citizens really want with community, government, political news and civic involvement online? What do we know? What are the trends? What actions must we take to use the Internet to its full advantage in democracy?
E-Democracy: The Promise of the Future is a Reality Today – A thirty minute keynote address written in easy to understand English for a large audience in Japan.  I also participated in a panel discussion which was broadcast on national television in Japan.  This will give you a sense of an original speech that does not use slides.
Future of E-Democracy – The 50 Year Plan – A major speech to the World Futurist Society release online in an -extended- form.
A Wired Agora – One of my most popular presentations from 1998. It is a great example of how I can make the story of citizen participation in e-democracy interesting and easy for all to understand.  This speech is retired "as is", but I can mix the example with other dynamic stories.  I put this together for Mikhail Gorbachev, but he didn't show due to a crisis in Russia.
Schedule – An old list of past public speaking appearances.
Hosting Ideas – With major speeches, I make myself available up to two days for meetings and additional seminars organized by my host. While on site, I like to meet with those involved in interesting "e-democracy" related projects and prefer to participate in at least one presentation open to the general public (often at a local university).