The Public Internet

Concept Draft 1.0
by Steven Clift,

This is an edited except from my Information is Power? Envisioning the Minnesota Public Internet – Public service and community information and interaction in the public interest speech. You see a mix of global concepts mixed together with Minnesota comments.  Eventually I will pull together a completely generic concept piece.
I accept the notion that most of what is being done online will be done by existing institutions based on existing missions.  This includes private sector, government, educational, and non-profit/NGO institutions.  The question of "public interest" activity must not be limited to our current notion of public needs from the offline world.  Yes, it makes sense for those solving public problems to come "on" the Internet and use its tools in pursuit of their objectives.  However, it is absolutely essential that we define public interest goals, needs and solutions that are "of" the Internet.
The illustration below presents my estimation of who is doing what online in the areas of Infrastructure, Commerce, General Content, Community (Local) Content, Interaction, and Community Interaction (Geographic).  The yellow bits are the missing areas of activity from my personal perspective.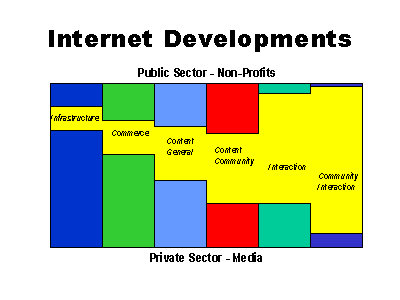 When it comes to infrastructure, commerce, and general content the private sector and public/non-profit sectors "as is" are generally successful, but when it comes to community content, interaction, and community interaction there are tremendous gaps.  We need to keep the rationale and models from public broadcasting and public access cable from clouding our options.  Defining the "Public Internet" is not about creating an alternative channel (they continue to have value based on existing or narrowly defined missions) but it is instead about partnerships among all players to fill in the gaps through the creation of shared mediating institutions and initiatives.
Two examples of efforts I am involved with that attack the gap in the interaction area are Open Groups for online community directory information and my efforts to promote the creation of local interactive online public commons spaces.  The second part of my original speech explores the interactive public policy civic gap with specific proposals for Minnesota which can be extended elsewhere.
At a minimum we need to develop the concept of the "Public Internet" and explore the concept much more deeply.  We should perhaps look to create a trusted, participatory all sector partnership-based organization called the Public Internet Consortium.  It could focus on promoting the use of open standards to solve public problems and be the host for a mix of Internet-based public interest applications/open standards which require a shared home to be legitimate or become established.  Just as you have hundreds of industry consortiums dealing with unique parts of e-commerce, we need similar efforts that are expressly public interest oriented.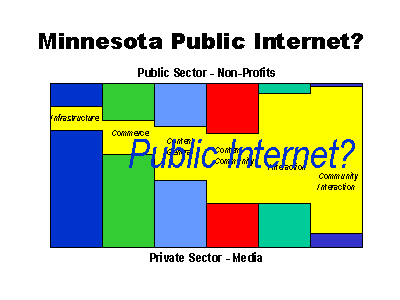 Again, what can we do together that would not happen otherwise, but we want to exist?  Ultimately the more online access, content, and interaction support by the competitive private market place or integrated into existing government and non-profit missions the better.   Filling in the many-to-many interactive gap with dynamic and sustainable solutions is how our first digital generation will be judged. It will be my life work.
Public Portals – Directories for the Public Internet
Back in 1994 and 1995 I designed North Star, the Minnesota State Government's home page or directory site (see also the North Star Development Center, and History and Future as viewed in 1997.) I secretly felt that I was designing the future interface through which most citizens would someday interact with their government.  When people would hear the word state government they would have an image of the state capitol building, the current Governor, and the main home page in their minds.  I strived to keep it non-political and worked to create a citizen-oriented foundation.  I figured that someone online should wake up each morning and ask the question – "what can I do for the citizens as a whole today" versus "what can I do to present my agency in a better light to its customers."  I assumed that agencies would continue their silo service, but that we could add a user-friendly directory.  And over time standardized access to frequently requested information and a high volume service transaction layer.  We would move from a thin directory, hard silo system toward a "Yahoo" like directory as illustrated here.
Moving toward an integrated service delivery and multi-interface approach, I felt the growing directory should be based on a database and be led by those with a communications and library-oriented skill set and not just technologists.  In the winter of 1997 the Minnesota State Legislature passed legislation creating the best legal framework for integrated online government online in the country and put almost $1 million dollars toward the effort.
The vision should have moved us toward a subject index of state government information and services (which does not exist – only a big garbage in garbage out search tool), a dynamic framework for integration of all major state directory information products including the state telephone directory, state agency guidebook, directory information on all local governments and eventually all public services including those sponsored by non-profits.  (This reminds us that ideas are dangerous – because all existing organizations and missions will not survive, keeping ideas off the public agenda is the safest way to preserve organizational turf.)
I left state government to pursue my Democracies Online effort and independent consulting in late 1997.  Efforts with the "public portal" in Minnesota have slowed tremendously.  While agencies continue to develop better and better online efforts, a few collaborative agency efforts provide niche directories – the sum is less than the whole of the parts.
Developing a effective citizen interface to things "public" is ultimately it is about vision, power, and leadership.  I think we need this to come directly from the Governor's Office with real targets to which we can hold the administration accountable. In the end it might make sense to privatize North Star into a state-supported non-profit that would take a holistic "public" information and interactive services perspective.  This could become the foundation for what I call the "Minnesota Public Internet."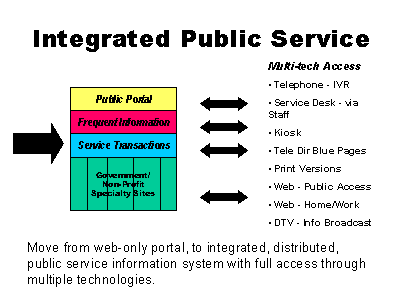 Through the use of open standards and systems the best public content should be aggregated for broad dissemination through multiple technologies.  While the web will be the most cost effective self-serve system, telephone based text to speech systems must provide access to the blind and those without two-way Internet access.  Any government or non-profit employee could use the same Minnesota Public Internet directory to send citizens in the right direction cutting through the bureaucracy.
Enhanced Digital Television – Broadcast the Public Internet
The real revolution with content aggregation and dissemination will be Digital Television.  Using yet to be defined enhanced service standards the "best of the Internet" will be broadcast.  Your remote will give you access to text, images, audio, and video that will be stored on your set-top box or in your television for a few hours or longer depending upon your settings.  The fundamental question with the "one-way Internet" (my name for digitial TV) is what public content is so important that everyone should have universal access to it?   Some examples that come to mind; weather alerts, traffic information, crime alerts, school lunch menus, missing children alerts, snow emergency information and other public safety notices.  Imagine this – you key your zip code into the set-top box and suddenly you have access to accurate, up-to-date local information from the city, your neighborhood organization, local museums, civic groups and the list goes on.  (This concept could be explored now at the local level if local governments dedicate all of the increased revenue from cable modem services to "public access" community new media content and service development.)
See my orignial Community Digital Broadcasting article for more information.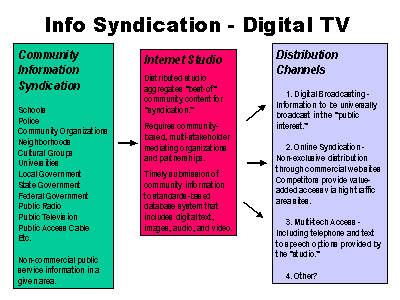 The lynch pin of this model is the development of a trusted content aggregator(s) and standards-based syndication systems.  While commercial stations could be encouraged to carry this digital side content, I think public television broadcasters are in the strongest leadership position.  Perhaps they just become the carriers as part of some broad government/non-profit partnership or they build this by default. I am not sure.
Let's not count commercial carriers out completely.  It may be that the Minnesota Public Internet concept is actually made up of many partnerships organizing different chunks of content and services for "syndication" across not only Digital TV but through the larger commercial web sites with "eyeballs" or users.  You see this happening already with multiple commercial sites using and repackaging traffic information.  So in the future perhaps more people will interact online with their government and non-profit services through the StarTribune or PioneerPlanet and AOL's My Government then through government and non-profit web sites directly?  Perhaps. I am not sure if I am fighting or promoting that concept, but in the end I just want more citizens to actually get access to the good stuff on their terms based on their own needs.
More resources:
Digital TV and public service in the Nordic countries – Article
PBS DTV
Sam's DTV Report
DigitalTelevision.com – Monday Memo, Glossary
Federal Communications Commission – DTV
FCC Notice of Inquiry on DTV Public Interest Obligations
FCC's Kennard on Interactive Personal TV
Comments on this draft?
clift@publicus.net